Whilst preparing for Bricktastic I developed a new, and hopefully better, pen holder for my Plott3r. This holder is a little heavier than the original, and somewhat more solid. This ought to remove some of the small erratic movements from the plots.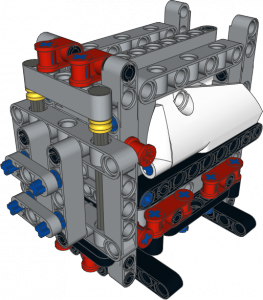 The PDF for the building instructions can be found at:
The LDR file if you wish to load it in to an LDraw package is as below:
It should be noted that the pen holder will need to be built on to the tracked section, it cannot be clipped on like the original. Build the base, attach it to the tracks, then clip the front and back sections on to it.