Recently, on the MINDSTORMS Facebook group, the question was posed about is it possible to receive Bluetooth mailbox messages in an AI2 app from an EV3. This is something I've been meaning to do for a while. I'd written AI2 code to send BT messages to an EV3, but hadn't focused on receiving messages. This was the spur to actually get this code written.
It wasn't too tricky. Receiving the message was simple, but parsing it was the harder part. The format of a message from the EV3, as covered in my update to BT messaging is:
MLenL, MLenH, 0x01, 0x00, 0x81, 0x9E, NLen, NameBytes, 0x00, TLenL, TLenH, TextBytes, 0x00
This is received as a string of bytes, so has to be parsed as a list. Add in that there doesn't appear to be a chr(x) type function in AI2 to convert from a number to its equivalent ASCII character, I have to do some array/list lookups. Thankfully I had that code in place for sending to the EV3.
Code
I've got the code to a position that it can hopefully be used for other purposes. I'm releasing what I've done so far as a baseline for others to work from. To make the code, linked below, work do the following:
Run the EV3 code first.
Start the AI2 app.
Long-press the BT button. This will bring up a settings box.
Enter the App device's Bluetooth name in the settings. This will be stored, and sent to the EV3. This is so that the EV3 knows where to send its messages to. This must be the same name as shown in the BT connections list on the EV3.
Press "Connect EV3". This will give the list of BT devices known the the Android device. Choose the correct EV3.
Once the App is connected to the EV3, the EV3 will say "detected".
Pressing the top, middle, or bottom buttons on the EV3 will send a BT message to the App.
The App will then display the message name in the top text box, and the message text contents in the bottom box.
The code only handles text message. I have no plans to develop code to handle numbers or booleans. The EV3 code will coerce those data types to strings if sent as a text message. AI2 will coerce strings to numbers if they look correct, so if the EV3 needs to send a number, simply send it as a string, and the AI2 App will still do the Right Thing™.
Images and Code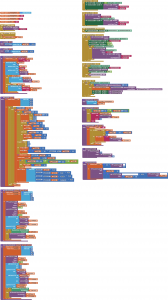 The AI2 code and Ev3 code may be obtained from:
The code is released under the Creative Commons Attribution-ShareAlike 4.0 International License